Welcome to our Online Gambling Frequently Asked Questions for South African Rand Gambling players.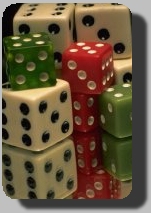 Here you will find some of the most Frequently Asked Question (FAQ) posed by new Online Casino Gamblers.
You should be able to find the answer to your question in this Online Casino Gambling frequently asked questions section.

If however you have questions that are not answered here drop us an email. We will gladly try and find the answer for you and if it will help other players with the same question we will add it to our Online Gambling FAQ page.
----- Answer Section -----
A. General Answers.
1. Is there any cost for registering at an Online Gambling Casino?
No, the Online Gambling Casinos do not charge any fee for registration. You however have to complete the registration process irrespective of whether you choose to play for fun or real cash.
By registering you will however receive all their newsletters via email informing you of the latest promotions available.
2. If I do not want to register via the Internet, is there any other way?
The Online Casinos do offer alternatives to gamblers to register. Contact the casino via email to find out what alternatives exist. The easiest method for registration however is by completing the registration process presented by the casino software after installation.
3. What is a coupon? How to redeem coupons? How many times can I redeem the same coupon?
A coupon code is a voucher that can be used in the cashier to claim a bonus either on your next deposit, or for free. You can redeem a percentage, fixed amount, or free money coupon. NB: Each coupon can be redeemed only once per player, and in the case of a deposit bonus coupon you must insert your coupon before making a purchase.
B. Security Related Answers.
1. How do I know my personal information is secure?
All the casino sites establish a Secure Socker Layer (SSL) connection between your machine and their server before you provide confidential information. SSL is the same technology used by many online shopping sites and used by online banking. If however you still feel uncomfortable with the idea of providing credit card information over the Internet then you can contact the Casino Support staff through one of their contact channels to assist you with any questions or find out what alternatives they can suggest. Many Online Gambling Casinos do offer a variety of deposit methods other than credit card.
2. Is it safe to give my credit card details over the Internet?
In general the answer is Yes. There are some safeguards you can check on to feel more secure. Ensure you are dealing with a reputable website before giving credit card information. Always ensure the site makes use of SSL (secure socket layering) digital certificates. There are 2 ways to check this. Firstly, the protocol in the address line of your browser will be shown as https and not just http. For example https://sitename.com
SSL means that all the network traffic between your browser and the server you are connected to are encrypted. By encrypting the data it is virtually impossible for anybody to intercept your credit card or personal information.
Secondly, a padlock will be shown somewhere in the browser, indicating you are using SSL. By doubleclicking on the padlock you will be shown the digital certificate information. From this you will be able to see who the certificate belongs to, when it expires, and which Certificate Authority (CA) has signed the certificate.
3. I can not remember my Account Name and Password. What should I do?
Contact the Casino Support staff immediately through one of the available support channels such as toll free number, email support etc. They will gladly assist you.
4. What if I have a problem logging in?
This can occur for two reasons: You have typed your Account number or UserId incorrectly or you have typed your Password incorrectly. Please make sure you enter them correctly and try again. Incase you are still unable to login, contact the Casino Support staff immediately.
5. When I install the software will it work though my personal firewall?
We have personally tested every casino listed on our site with Windows XP with SP2 and the personal firewall enabled. Secondly it was tested through an ADSL wireless gateway with it's default firewall configuration and no connectivity problems were encountered. There should be no need to enable any special firewall configuration for the downloaded Online Gambling Casino client software.
If however you face any problems in connecting through your personal firewall software, briefly disable the firewall software and try again. If it then succeeds in connecting you have at least identified the problem. Re-enable your firewall and contact your firewall vendor for support and assistance in configuring the firewall to allow the casino client software communication.
6. Can I play the casino games from my company's network?
We do not recommend this at all. Companies all have Internet Usage Policies in place and will prohibit their Internet connections from being used for this purpose.
C. Download and Installation related Answers.
1. Do I have to deposit money to download and play the casino games?
No, almost all the casinos listed here that offer South African Rand Gambling Casinos give the option to either play for fun or for real cash. You will still however be required to register irrespective of your choice of gameplay.
2. Why do I need to download and install the casino software?
Having the software running directly on your own machine speeds up the casino gambling gameplay and minimizes delays due to slower Internet connection methods such as dial-up modem connections. The software is non-intrusive and only becomes active when you choose to run it. So in general there is no issue with downloading and installing it.
3. How do I Download the Free Software?
Most casinos will provide a pop-up message on their main casino website page that prompts you to download the software. Simply click on the "Yes" option to download and install the software. If you choose not to accept this option, most casinos have a clearly marked "Download" option in the website where you can download the software.
4. What if I don't want to install any software on my machine?
If you wish not to install any software on your machine you will be limited in your casino options. This means that you need to register at a casino that offers a "No Download Flash Version" of their software on their website. In this case you only need the "Flash" plugin installed in your browser and then you will be able to play directly through your browser without the need to install any other software.
We recommend the No Download Flash Casinos for people that are frequently away from their own personal computers but still have access to computers with Internet connections.
5. Do I have to download every time I want to play?
No. You only need to download and install the software once on your machine.
6. How do I know when the casino has new games?
You can either check out the casino site for new games or simply start your casino gambling client software. When it connects to the casino it will automatically download any new games that have become available since the last time you played.
When you registered at the casino you provided an email address. The casino may wish to send you an email informing you of promotions or new games that have been launched by them. So there is no need to worry about it, you will be notified automatically.
7. How do I update my casino software?
When you start the casino client software it will automatically check for a newer version or updates. If an update is required it will prompt you to download the updates and the software update process is an automated process from there. It will do everything for you that is required to update your client software.
D. Depositing Funds Related Answers.
1. What options do I have for Depositing Funds when I am ready to start playing?
Almost all casinos offer the option to use Credit Card Deposits as an option. We would however still recommend you check out the Cashier section on the casino website and check the options allowed for Deposits, and especially for the currency you would like to play in as this may vary depending on your country of origin and gameplay currency.
Our site tries to give you all the deposit options for South African Rand Casinos in our Casino review page. Neteller is also an extremely popular choice which the casinos allow.
Another good reason to check out the Deposits Section on the Online Gambling Casino site is for deposit bonuses depending on the deposit method. Some casinos encourage people to use a particular method to deposit money and reward them with additional bonuses if they use these methods.
2. Can I use my credit card? Is it secure?
Yes, transactions are performed over SSL secured sessions to protect your confidential information. Also see our Security Related questions section.
3. My bonus is not automatically credited to my account. What should I do?
If your bonus is not automatically added to your account then simply log out of the casino and then log back in again. If the bonus still does not appear, and you are sure you have completed the wagering, contact the Casino Support Staff through one of the available support channels.
E. Withdrawal Related Questions.
1. How do I collect my winnings? What if my winnings do not reflect in my account?
Every Online Gambling Casino has a Banking section on the main webpage. They explain in detail both their deposit and payout policy and options.
In general when you decide to cash out, your winnings may be transferred to your credit card, or directly into your bank account. Again, this is very specific to the casino you are playing at so check out their casino payout options.
Should your winnings not appear in your balance, contact the casino support staff immediately. They are there to help and support you incase you face any problems.
F. Gameplay Related Answers.
1. What Games Are available at the Online Gambling Casinos?
Almost all traditional real-world casino games are available in the Online Gambling Casinos. BlackJack, Roulette, Craps, various form of slot machine games, Poker, and numerous other games. The best is to download the casino software, register, and then have a look around in the casino to find out what games they offer.
We also list many of the games available in our Online Casino Gambling Review pages. New games are regularly added so our game listing on our site may not be 100% up to date.
2. How do I play the games I am unfamiliar with?
The best is to find information on the casino site. Normally they offer some very useful tutorials or help sections to explain the games in more detail to you.
3. What happens to my bet if I lose my Internet connection?
If the gaming server resolves the bet after you have lost your Internet connection, it will refresh your credit balance with the outcome of the bet.
If it cannot resolve the bet during loss of your Internet connection, it will present you with the unfinished bet the next time you replay the game that was being played when the loss occurred.
4. Can I play the games for free or only for money?
All the casinos we have reviewed and are available from this site offer the option to play either for free or for cash. So feel free to download the software, registration is free, and then try out the games for free. What have you got to lose? Go ahead and enjoy !